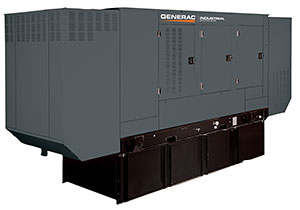 Protect your stand-by power system with expert care from GenSouth. Our technicians are factory trained and certified to handle any power generation problem including the following service areas:
Preventative Maintenance Programs
Preventative maintenance is a key component to keeping your equipment in top condition. Along with routine operator checks, a periodic maintenance visit can avert costly damage and down time when your equipment is needed most.
GenSouth offers preventative maintenance plans for all brands to help keep your equipment in top operating condition. Our preventative maintenance programs can be custom tailored to meet your individual needs, or you can choose from one of our standard programs.
Load Bank Testing
Wet-Stacking is a common problem with diesel engines that are operated for extended periods with little or no loads applied. This allows unburned fuel to accumulate in the exhaust system, including turbochargers and engine valves and can foul the fuel injectors. Load bank testing can be an excellent addition to your preventative maintenance schedule. This service utilizes a portable load to provide performance testing on site when the facility loads are unavailable or insufficient for proper testing. This load testing can also ensure the unit is tested to the standards recommended by the manufacturer and other requirements such as National Fire Protection Agency (NFPA) and Joint Commission of Hospitals (JCOH).
Repairs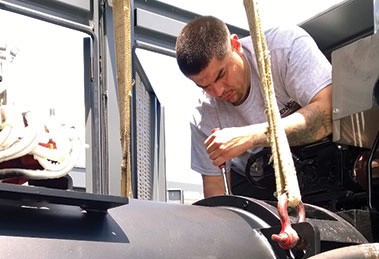 During routine maintenance and inspections our technicians will identify wearable components that are in need of replacement. GenSouth will provide a quoted repair cost in written form for approval. We provide emergency repair services 24 hours a day, 7 days a week, and 365 days a year with an average response time of only 2 hours. Our field service trucks are stocked with the most common parts that will allow us to perform a wide variety of repairs on the first call out.
Upgrades & Enhancements
With today's technical advances there are many choices for enhanced controls, alarms or complete control upgrades. The need for these may be to enhance operator awareness or to meet the ever-changing facility or code requirements. GenSouth can also supply larger fuel systems, weather and sound attenuated enclosures, and Racor fuel/water filtration system upgrades.
Diesel Fuel & Oil Services
Diesel Fuel and Oil Analysis are available upon request.
Fuel Polishing Services: In time, stored fuel will darken due to oxidation, repolymerization and agglomeration of certain components. The darkening is accompanied by the formation of sediment that plugs filters and causes poor combustion. Fuel & Oil vendors know what time can do to fuel quality and suggest that if diesel fuel is stored for emergency use, it should be replaced with fresh fuel within a year, unless special precautions or remedial actions are taken such as fuel polishing. The University of Idaho conducted tests on the life expectancy of fuels to determine the timeline on degradation of stored #2 diesel fuel. The results indicated 26% degradation after 28 days of storage.
Generator Parts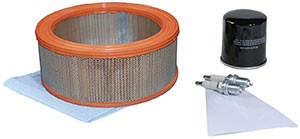 GenSouth carries an extensive inventory of Generac parts and other maintenance supplies. Our parts team is ready to assist in finding just the right parts for your system.
24/7 Emergency Response
GenSouth has a disaster response plan in place for all customers who are under a Preventative Maintenance Agreement.
---
GenSouth: Your Source for Residential and Industrial Generac Generators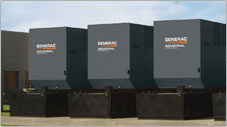 Our dedicated sales team can provide you with a quote for industrial or residential generators. We offer standby power generators for a wide variety of applications including digital on-board paralleling – Modular Power Systems (MPS), QT Series generators, and Bi-Fuel generator systems.
We take the hassle out of your project by handling all aspects from start to completion, including financing, engineering and permits. We take great care to assess, design and select the proper system and components that will meet your automatic standby power needs now and into the future.
---
Contact us today at (504) 464-9393  to schedule an appointment, or to find out more  about our service offerings and products.